**** INTRODUCE*******
-Leather material: Alligator USA
 _ American Tanning & Leather LLC is the largest and longest fish era in America and offers worldwide luxury brands with the best fish and fish skins on the market today.
__Discounts on many products:
– Buy 3 to 9 straps save 15%
– Buy 10 or more straps save 25%
__Buy wholesale please message us via whatssap: +8490 3068306
_or email me: [email protected]
*** SPECIFICATIONS ****
_Color may vary slightly due to shooting or lighting
_For a padded strap, there will be a thickness of 5 to 6mm at the LUGS, thinning towards the tail of the strap by 2-2.5mm depending on the size of the strap.
_ For the Flat strap ( Slim ) will have a thickness of 2.8-3.0mm at the LUGS and gradually thinner towards the tail of the strap 2.3-2.5mm
**** IMPORTANT ******
_ Free of charge _ Quick release alloy watch pin and buckle sliver
***_ Please be careful when ordering Width LUGS and Width BUCKLE , please measure and check for accuracy before ordering (if you don't know what LUGS and BUCKLE are please check the pictures attached on the listing). specific instructions).
_ Be careful with the length of the strap, to get the correct length please measure the radius of your wrist and compare it with the list below then choose in the option when order .
***Length here is understood as the length of long strap (with hole) and short strap (side length with buckle).
_ for example 120/70, 120 is the long side, 70 is the buckle side
_ see description image attached with listing for a good understanding of length dimensions. If you can't choose a length from the options please choose "length custom" and leave a message with your desired length or any request.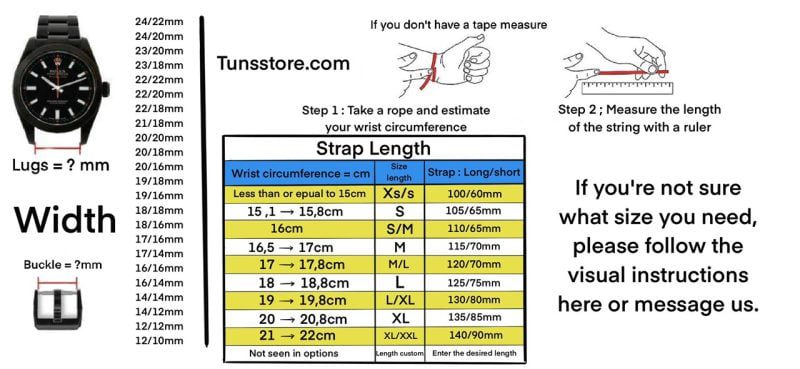 ******Backing material: Zematt -France Leather
_The strap waterproof and sweatproof leather lining material, completely natural and safe for users
Dimension correction is available upon request. Add comments to your order or message me.
__We have wholesale , message me via whatssap   : +8490 306 8 306
_See more products at our wepside : tunsstore.com
_Intagram  : tuns_strap