Mặc dù không có định nghĩa chính thức, da Vachetta là một loại da thuộc da nguyên tấm, thuộc da thực vật được làm từ da bò.
Đặc biệt, Vachetta nổi bật bởi hàm lượng chất béo cao và thành phẩm tự nhiên, gần như không qua xử lý.
Hàm lượng chất béo tạo ra một kết thúc mềm, giống như bơ khi chạm vào.
Trong khi cái tên Vachetta xuất phát từ tiếng Pháp có nghĩa là gia súc, nó thực sự có nguồn gốc từ Ý, được sản xuất chủ yếu ở Tuscany.
Do đó, mô tả chung về da Florentine Vachetta.
__Giảm giá nhiều sản phẩm:
– Mua 3 đến 9 quai tiết kiệm 15%
– Mua 10 dây trở lên tiết kiệm 25%
__Bạn mua sỉ vui lòng nhắn tin cho chúng tôi qua whatssap:  +8490 3068306
_hoặc gửi email cho tôi:  tuns.spport@gmail.com
*** THÔNG SỐ KỸ THUẬT ****
_Màu sắc có thể thay đổi một chút do chụp hoặc ánh sáng
_Đối với dây đeo có đệm, sẽ có độ dày từ 5 đến 6mm ở LUGS, mỏng dần về phía đuôi của dây đeo từ 2-2,5mm tùy thuộc vào kích thước của dây đeo.
_ Đối với dây đeo Dẹt (Slim) sẽ có độ dày 2,8-3,0mm ở LUGS và mỏng dần về phía đuôi dây đeo 2,3-2,5mm
_ Miễn phí _ Chốt và khóa đồng hồ bằng hợp kim tháo nhanh
*** _ Quý khách lưu ý khi đặt hàng Width LUGS và Width BUCKLE, vui lòng đo và kiểm tra độ chính xác trước khi đặt hàng (nếu quý khách không biết LUGS và BUCKLE là gì vui lòng xem hình đính kèm trên danh sách).
hướng dẫn cụ thể).
_ Cẩn thận với độ dài của dây đeo, để có độ dài chính xác vui lòng đo bán kính cổ tay của bạn và so sánh với danh sách bên dưới sau đó chọn trong tùy chọn khi đặt hàng.
***Length here is understood as the length of long strap (with hole) and short strap (side length with buckle).
_ for example 120/70, 120 is the long side, 70 is the buckle side
_ see description image attached with listing for a good understanding of length dimensions. If you can't choose a length from the options please choose "length custom" and leave a message with your desired length or any request.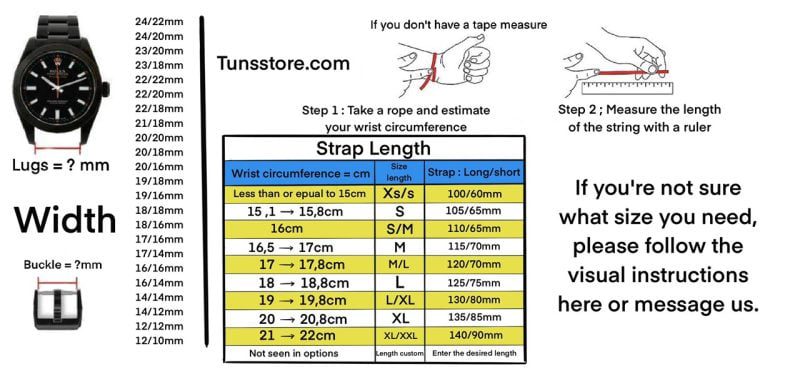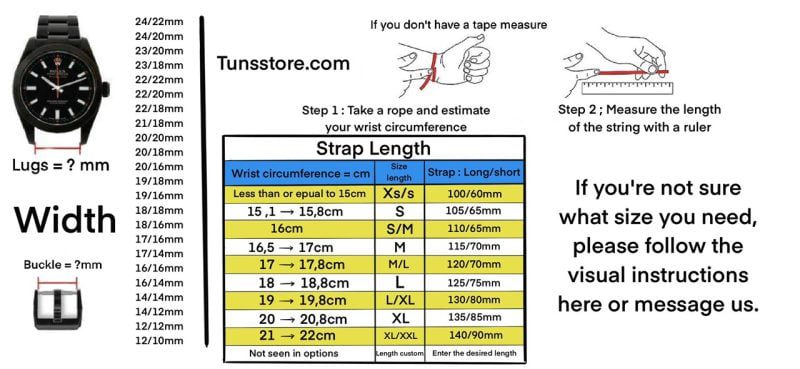 ******Backing material: Zematt -France Leather
_The strap waterproof and sweatproof leather lining material, completely natural and safe for users
Dimension correction is available upon request. Add comments to your order or message me.
__We have wholesale , message me via whatssap   : +8490 306 8 306
_ Email:  tuns.spport@gmail.com
_See more products at our wepside : tunsstore.com